Freedom Baptist Church
We're Pleased to Announce That:
OUR WEB ADDRESS HAS CHANGED!
Freedom Baptist Church,
Pastor Jeremy Farley
Fort Chiswell, Virginia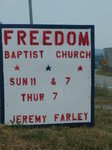 Freedom Baptist Church is an independent Baptist Church dedicated to honoring Christ and spreading His message throughout our community, our Commonwealth, and our country- with hopes that by doing so the Gospel message will be proclaimed to all of mankind. We wish to invite you to help us in this work.
Service Schedule
Beginning Sunday, September 2nd
---
Sunday Morning Worship- 11 am
Sunday Evening Worship- 7pm
Thursday Prayer & Study Night- 7pm